Abstract At present, the macro economy is in a critical period of stabilization and stability. While various statistics show that the positive factors in the economic operation are increasing, more people are focusing on the sustainability of economic recovery, one of which is big. The question mark is whether private investment can follow up in time...
At present, the macro economy is in a critical period of stabilization and stability. While various statistics show that positive factors in economic operations are increasing, more people are focusing on the sustainability of economic recovery. One of the big question marks. Is the private investment able to follow up in time? Zhang Ping, director of the National Development and Reform Commission, said in a report to the Standing Committee of the National People's Congress on the implementation of the national economic and social development plan this year. In the first seven months, the growth rate of urban fixed assets investment reached 32.9%, of which private investment growth rate reached 34. %.
According to the statistics of the State Administration for Industry and Commerce, as of the end of June, there were 6,923,500 private enterprises in the country, with a registered capital of 12.81 trillion yuan, up 5.31% and 9.11% respectively from the end of last year. The increase in the number of private enterprise registrations and registered capital confirms that private investment is picking up.
The flow and structure of private capital are changing. While private investment is gradually picking up, the flow and structure of private capital are also changing.
The coal char industry was once the main "output" and "inflow" of Shanxi's private capital. In the face of the international financial crisis and the integration policy of Shanxi's coal resources, many private capitals began to flow out.
Do not dry coal char, what? Li Qiuyi, who has been a "coal boss" for more than 10 years, found that the edible fungus market is almost blank in Shanxi, and the market space is huge. Therefore, Li Qiuyu invested another 180 million yuan, determined to build his own edible mushroom kingdom. In fact, the "coal boss" who thinks about this issue is not limited to Li Qiuyi. To this end, in July this year, Shanxi Province issued the "Opinions on Promoting Private Capital to Enter the Province's Encouragement Areas" to guide the flow of private capital.
According to statistics from the Taiyuan Center Sub-branch, from October last year to February this year, a total of 2.916 billion yuan of private capital was transferred from energy industries such as coal, coking, smelting and chemical industries to non-energy sources such as agriculture, education, real estate, tourism and finance. In addition to the decline in the total amount of private investment in the energy industry, the amount of other investments and their share have increased.
In Zhejiang and other places, more and more private capital is flowing to new energy industries such as photovoltaics. In May of this year, three new energy projects, including Longjing Technology, Longchi Curtain Wall and CIGS Solar, were signed in Hangzhou Economic and Technological Development Zone. Together with Tianyu Solar Energy, which has already settled in, the new energy project focusing on photovoltaic industry has become this. The key direction of industrial transformation in a development zone. In the past, Shangyu City, which is a pillar industry with electromechanical, chemical, printing and dyeing, has also been involved in or ready to enter the new energy industry.
This is not unrelated to Zhejiang Province's vigorous encouragement and guidance of social investment into the new energy industry. Relevant departments of Zhejiang Province encourage social funds to participate in the construction of new energy projects, and support enterprises to invest in new energy industry through various forms such as guarantees and venture capital.
There is still a need to eliminate hidden barriers and stimulate the vitality of private investment. In the exchanges with private entrepreneurs in Guangdong, there is a lack of investment opportunities.
In the central garbage collection processing base of Zhongshan City, the whole process is non-emission, pollution-free and odorless, and the technology and equipment are world-class. The core of this environmental protection processing base is a BOT waste incineration power plant project invested by the private enterprise Changqing Group with a total investment of 320 million yuan.
Yuan Furong, the person in charge of the project, said that the project handled more than 1,000 tons of garbage per day, accounting for about one-third of the total waste disposal in Zhongshan. The government pays a total of more than 20 million yuan in processing fees per year, which basically maintains the normal operation of the two units of the power plant. The basic investment is amortized annually in the generation income. Yuan Fuliang said that the waste incineration power plant is a good project for Changqing, a private enterprise. The government can open up to private enterprises and reflect the fairness of the government.
But at present, not every local private enterprise can enjoy such fair investment opportunities.
Statistics from Guangdong Province show that the current industry distribution of private enterprise investment is too concentrated, and 96.8% of individual industrial and commercial households and 76.4% of private enterprises are concentrated in manufacturing, wholesale and retail, accommodation and catering, transportation and residential services. Most of these industries tend to be saturated and the competition is fierce, which has inhibited the development of the private economy to a certain extent. If we can further relax market access and encourage private enterprises to develop into service industries and infrastructure, it will be more conducive to enhancing the enthusiasm of private enterprises.
Advantages and features:
Automatic igniting and tempering control, high efficient and quick. Can be linear single, double - sided a molding groove cutting.
Brand: Buluoer intelligent
Other name: Gantry Flame Plasma Cnc Cutting Machine
Cutting mode: flame cutting, Plasma cutting
Suit material: carbon steel, manganese plate, galvanized plate, stainless steel, copper steel, aluminium plate etc. metal plate materials.
Product describe:
This CNC equipment is aimed at metal plate materials baiting, not only the appearance of atmospheric but also stable operating, high working efficiency, long service life and it can be achieved cutting all kinds of design graphic. Widely used in various machine building industry of metal sheet cutting.
Product features:
Bilateral drive, high transmission accuracy, operating is stability.
Frame aging treatment, stable structure and non-deformation.
Can remote operation, convenient and efficiency, save labour.
Automatic temper control, safety and efficiency.
Full-automatic StarCAM/ FastCAM graphical editing software, simple nesting.
Flame/plasma dual-purpose cutting system, easy to operate and wide application range.
System has self-compensating, automatic positioning, automatic height-adjustment, break-point memory and automatic recovery function.
Cutting size customization, flame plasma sub-cutting options.
Product parameters
Type

BLDH-3060

BLDH-4080

BLDH-5080

BLDH-60100

BLDH-80100

Track gauge(mm)

3000

4035

5000

6000

8000

Effective cutting width(mm)

2300

3300

4300

5300

7300

Machine width(mm)

3500

4300

5500

6500

8500

Track length(mm)

6000

8000

8000

10000

10000

Number of standard cutting torch(set)

1

2

2

2

2

Input power

AC380V/50Hz;AC220V/50Hz

Lift(mm)

200

Cutting thickness(mm)

Flame cutting:5-150 Plasma cutting:1-30(According to the power supply size)

Cutting speed (mm/min)

Flame cutting:100-1000 Plasma cutting:450-5000

Idle speed

0-8000

Drive mode

Bilateral drive

System

Shanghai Jiaoda or Beijing Starfire

Operating accurancy

±0.5mm
According to the power supply size

LGK-120IGBT

LGK-200IGBT.

No.

Name

Specification parameter

Rrmark

Specification parameter

Rrmark

1

Track gauge

4.0m

Transverse efffective cutting max. 3 m

4.0m

Transverse efffective cutting max. 3 m

2

Track length

8.0m

longitudinal efffective cutting max. 6.5 m

8.0m

longitudinal efffective cutting max. 6.5 m

3

Max. idle speed

9000min

9000mm/min

4

Straight line position accuracy

±0.2min

±0.2mm

5

Straight line position repeat accuracy

±0.3mm

±0.3mm

6

Operating accurancy

±0.5mm

±0.5mm

7

Height controller lift distance

200mm

150mm

8

Flame punch cutting thickness

6-80mm

Carbon steel plate

6-80mm

Carbon steel plate

9

Flama max. Cutting thickness

200mm

Carbon steel plate

200mm

Carbon steel plate

10

Plasma punch cutting thickness

16mm

Stainless steel plate, carbon steel plate

25mm

Stainless steel plate, carbon steel plate

11

Plasma max. Cutting thickness (Edge cutting)

25mm

Stainless steel plate, carbon steel plate

40mm

Stainless steel plate, carbon steel plate

12

Inclination of plasma cutting surface

5-8° (carbon steel plate)

5-8°(carbon steel plate)

13

Roughness of plasma surface

Ra12.5

Ra12.5

14

Roughness of flame surface

Ra25

Ra25

15

Speed of plasma cutting

50-4000mm/min

50-4000mm/min

16

Speed of flame cutting

50-700mm/min

50-700mm/min

17

Drive mode

Bilateral drive

Bilateral drive (panasonic servo)

18

Number of cutting torch

CNC flame cutting torch: 1, plasma cutting torch: 1

CNC flame cutting torch: 1, plasma cutting torch: 1

19

Equipment accurancy

Conformed or superior to ISO8206-1991, JB/T10045.3-1999

Conformed or superior to ISO8206-1991, JB/T10045.3-1999
Flame plasma CNC cutting machine
Basic Equipment
| | | | | | |
| --- | --- | --- | --- | --- | --- |
| No. | Name | Distribution | Unit | Quantity | Remark |
| 1 | Type specification | BLDH4080 | set | 1 | Beam annealing |
| 2 | Drive mode | double-drive | set | 2 | Panasonic servo |
| 3 | Drive reducer | AEVELE | set | 2 | Taiwan |
| 4 | CNC | F2300TB | set | 1 | Shanghai Jiaoda |
| 5 | FASTCAM | Fast CAM Chinese version | set | 1 | Guoyou |
| 6 | Flame cutting torch | Wuxi Xiangzheng | set | 1 | Guoyou |
| 7 | Plasma power | Chengdu Huayuan LGK200 | set | 1 | Huayuan |
| 8 | Arc voltage regulator | Shanghai Jiaoda | set | 1 | system-provided |
| 9 | Automatic ignite device | Wuxi Xiangzheng | set | 1 | Guoyou |
| 10 | Precision track | 24 kg | m | 8*2 | Wuxi |
| 11 | Precision rack | Straight tooth | m | 6*2 | Wuxi |
| 12 | Pulley | Nylon chain | set | 1 | |
| 13 | Lift body | 2K2M | piece | 2 | |
Technical requriments
| | | | |
| --- | --- | --- | --- |
| No. | Name | Distribution | Remark |
| 1 | Width of machine tool | 4000 | |
| 2 | Effective cutting wideth | 3100 | |
| 3 | Track gauge | 3710 | |
| 4 | Idle speed | 0~8000 mm | |
| 5 | Flame cutting thickness | 5~200 mm | |
| 6 | Plasma punch cutting thickness | 25mm | user demand |
| | Plasma max. Cutting thickness | 45mm | user demand |
| 7 | Effective length | 6500 mm | |
| 8 | Cutting torch journey | ≤150 mm | |
| 9 | Accurancy | ± 0.5 mm | |
| 10 | Track length | 8m | |
| 11 | Input power | AC220V/380V 50HZ | |
| 12 | automatic height-adjustment | Jiaoda arc voltage height-adjustment | |
| 13 | Cutting material | Stainless steel plate, carbon steel plate | |
Cutting samples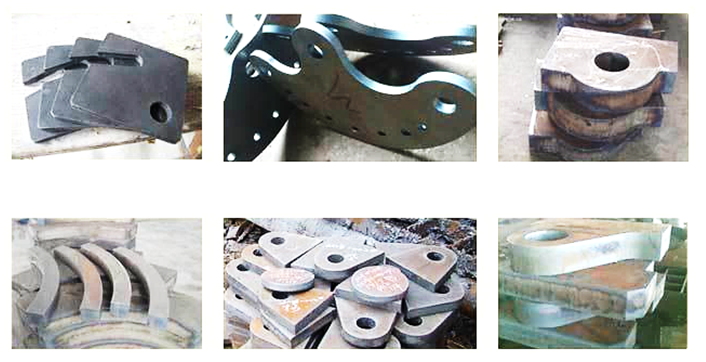 Flame Cutting Machine,Plasma Cutting Equipment,Copper Cnc Cutting Machine,Cnc Plasma Slab Cutting Machine
Buluoer Intelligent Technology Co., Ltd. , http://www.buluoercuttingmachine.com