Model NO.:

HY4001

Material:

Recycled Rubber

Certification:

ISO9001

Size:

500*500mm

Usage:

Household, Interior Tiles, Commercial, Outdoor, Exterior Tiles, Sports

Trademark:

Hyrubbers

Specification:

ISO

HS Code:

400821
Color:

Black, Red, Blue

Application:

Gym

Certificate:

ISO9001

Function:

Waterproof, Wear-Resistant, Non-Slip, Anti-Static, Acid-Resistant, Soundproof, Antibacterial

Thickness:

3-12mm

Transport Package:

Pallet Suitable for Long Distance Transport

Origin:

Hebei, China
Safe-play Playground rubber tile are designed to keep children safe. Safe-Play tiles are the perfect surface for jungle gyms, swing sets and other playground equipment. Since safety is the number one priority for playground tiles, Safe-Play rubber tiles are available in many different thicknesses to ensure the safety of children from different possible fall heights. Another feature of the playground tiles are that they are very versatile, they can be used indoors and out. When used outdoors, the tiles provide proper drainage when installed correctly. The rubber tiles are available in an array of different surface colors. ADA approved ramps are also available for children with disabilities. Please contact our customer service professionals for more information on ADA approved ramps and aprons.
Technical data:
Material
Top
Colored fine recycled rubber particle
Bottom
Black recycled rubber crumb
Size
500*500mm
1000*1000m
200*160mm
132*132mm
Thickness
10-50mm
Density
0.9
Color
All black, red, green, yellow, blue and etc...
Working life
More than 10years
Certificate
ISO9001/EN1177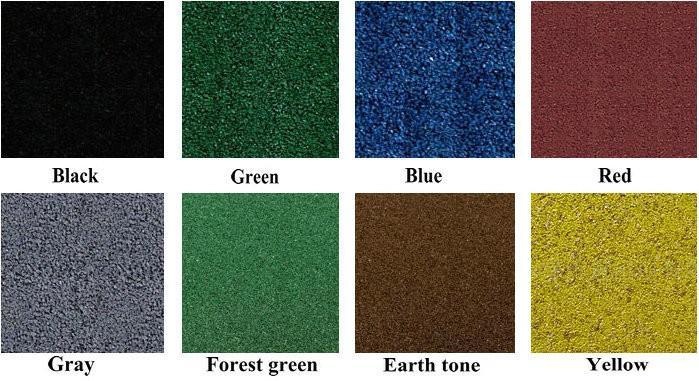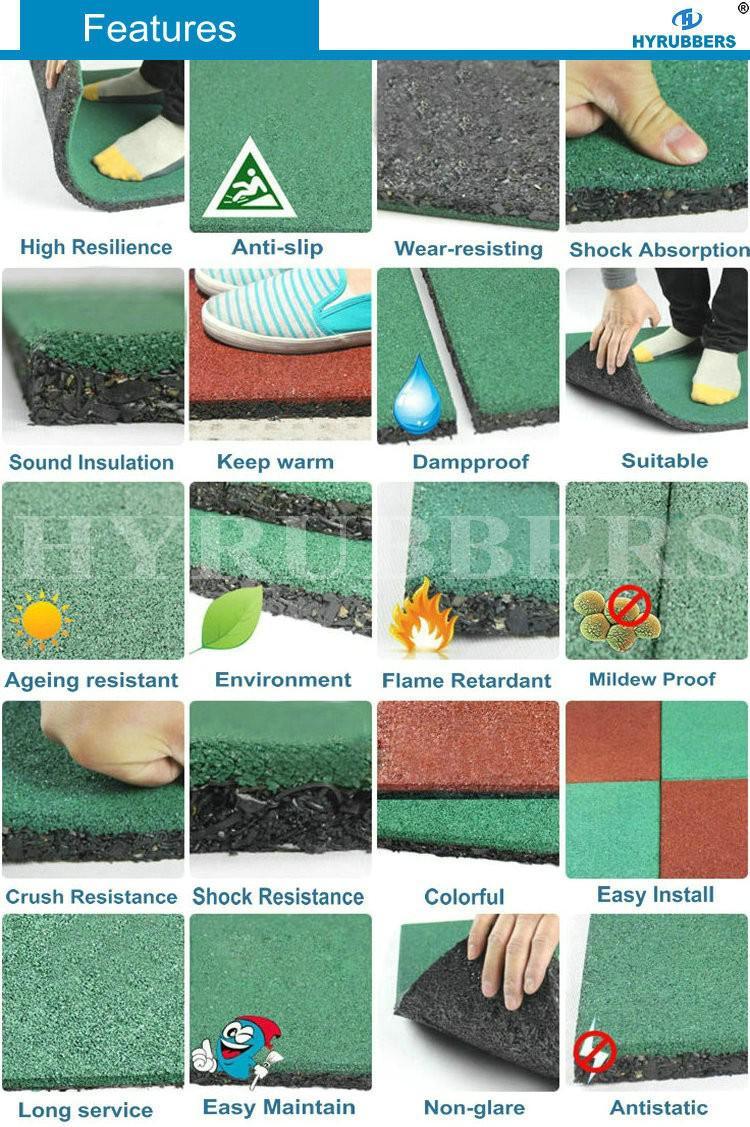 1.
 colorful.
2. Good elasticity, shockproof
3. Easy drainage, no water leaves in surface, anti-slip.
4. Wearable, pressure resistance, abrasion resistance, anti-static, isolation. 
5. Non-toxic, non-peculiar-smell, sound insulation, heat reservation, easy clean.
6. Aging resistance, oxidation resistance, and ultraviolet resistance, long time used in outdoor.
7. Health care, the elastic character can anti-fatigue, makes people ease.
8. Easy installation, various specification, all these characters can enlarge vision and creativity of designers.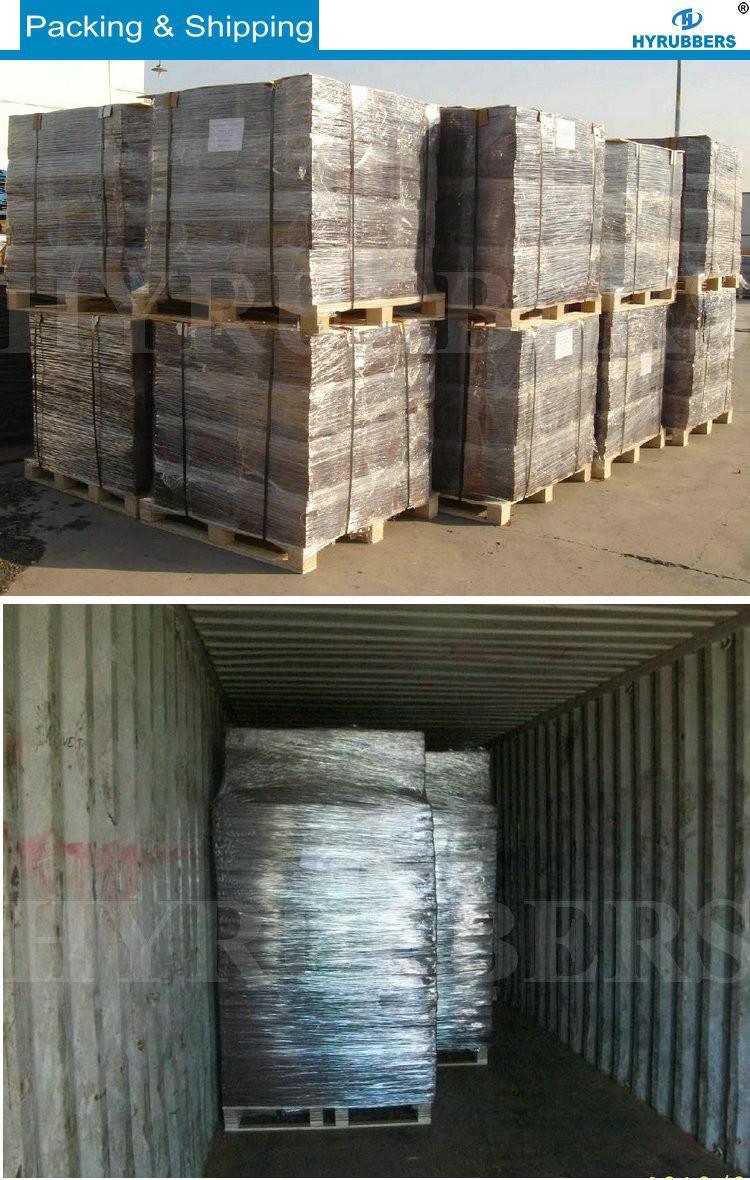 17

+ years experience in 

rubber tile

 industry.

Main products:

 rubber sheet, rubber tiles...

 

etc.

Located in 

Qingdao

,

China, closed with the seaport

 

40sets of rubber tile building machine

Outstanding R&D engineers team.

OEMÂ available.

Consistent and well trained team.

Experienced sales team for different markets.

ISO9001 approved production process.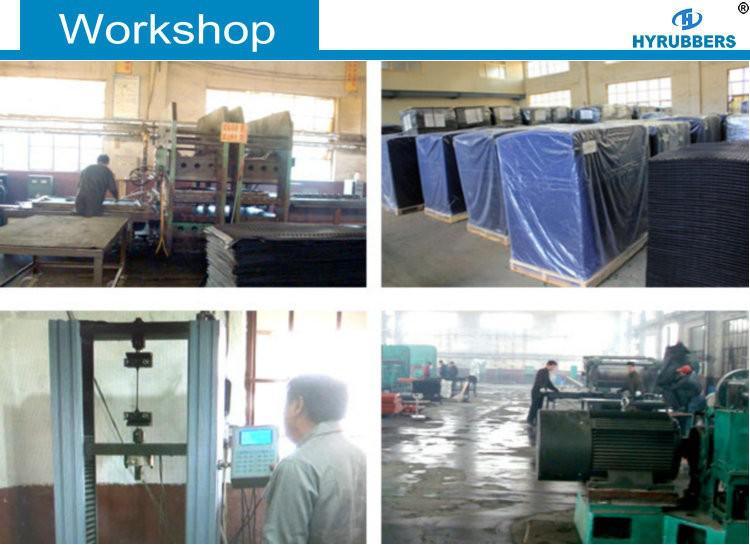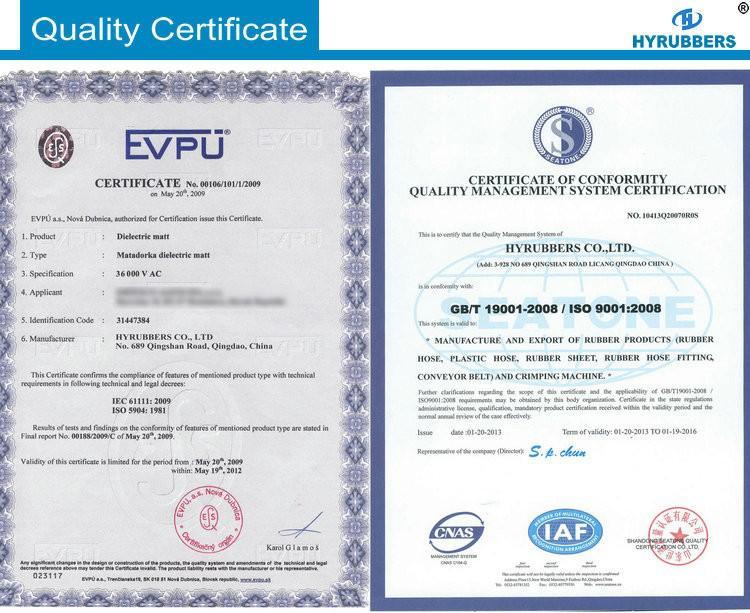 Geotextile, also known as geotextile, is a water-permeable geosynthetic material made of synthetic fibers by needling or weaving. Geotextile is one of the new materials, geosynthetics. The finished product is cloth-like, with a width of 4-6 meters and a length of 50-100 meters. Geotextiles are divided into woven geotextiles and non-woven filament geotextiles.
Features
1. High strength. Due to the use of plastic fibers, it can maintain sufficient strength and elongation in dry and wet conditions.
2. Corrosion resistance, long-term corrosion resistance in soil and water with different pH.
3. Good water permeability There is a gap between the fibers, so it has good water permeability.
4. Good anti-microbial resistance No damage to microorganisms and insects.
5. Convenient construction. Because the material is light and soft, it is convenient to transport, lay and construct.
6, complete specifications: width up to 9 meters. It is the widest product in China, the mass per unit area: 100-1000g / m2
effect
1: isolation
Use of polyester staple fiber needle punched geotextiles for building materials with different physical properties (particle size, distribution, consistency, density, etc.)
Materials (such as soil and sand, soil and concrete, etc.). Prevent two or more materials from being lost and mixed
The overall structure and function of the materials enhance the carrying capacity of the structure.
2: filtration (reverse filtration)
When the water flows from the fine soil layer into the coarse soil layer, the good air permeability and water permeability of the polyester staple fiber needled geotextile are used to make the water flow
Through, it effectively intercepts soil particles, fine sand, small stones, etc. to maintain the stability of soil and water engineering.
3: drainage
Polyester staple fiber needle punched geotextile has good water conductivity, it can form drainage channels inside the soil,
Residual liquid and gas are discharged.
4: reinforcement
Polyester staple fiber needle punched geotextile is used to enhance the tensile strength and deformation resistance of the soil and enhance the stability of the building structure in order to improve
Good soil quality.
5: Protection
When water flow scours the soil, it effectively diffuses, transfers or decomposes the concentrated stress, prevents the soil from being damaged by external forces, and protects the soil.
6: puncture prevention
Combined with geomembrane to form a composite waterproof and anti-seepage material, which plays the role of puncture prevention.
High tensile strength, good permeability, breathability, high temperature resistance, freeze resistance, aging resistance, corrosion resistance, and no moth.
Polyester staple fiber geotextile is a widely used geosynthetic material. Widely used in the reinforcement of railway subgrade and highway pavement
Maintenance, sports hall, dam protection, isolation of hydraulic structures, tunnels, beaches, reclamation, environmental protection and other projects.
Features
Light weight, low cost, corrosion resistance, excellent performances such as reverse filtration, drainage, isolation, and enhancement.
use
Widely used in geotechnical engineering such as water conservancy, electricity, mines, roads and railways:
l Filter material for soil separation;
2. Drainage materials for the beneficiation of reservoirs and mines, drainage materials for the foundations of high-rise buildings;
3. Anti-scouring materials for river dykes and slope protection;
4. Reinforcing materials for railways, highways, and airport running road foundations, and road-reinforcing materials for swamps;
5. Anti-frost and anti-freeze insulation materials;
6. Anti-cracking material for asphalt pavement.

Non Woven Geotextile Fabric,Non Woven Filter Fabric,Non Woven Geotextile Membrane,Non Woven Geo Fabric
Jieyang Xinxin Industry and Trade Co., Ltd. , https://www.gdxxgm.com